RIPE 73 will take place in the Meliá Castilla hotel in Madrid, 24-28 October 2016

Calle del Capitán Haya, 43
Madrid 28020
Spain
What is a RIPE Meeting?
A RIPE Meeting is a five-day event where Internet Service Providers (ISPs), network operators and other interested parties gather to discuss issues of interest to the Internet community.
Meeting Plan
Please note that RIPE 73 will start one hour later each day than normal, embracing local business and social custom.
The meeting will open at 10:00 each day and social events will start an hour later than usual.
Unsolicited Hotel Assistance
We've been informed that a company, Exhibition Housing Management (EHM), has contacted some of our attendees to offer hotel reservation assistance. Please note that EHM is not recognised by the RIPE Meeting organisation or the RIPE NCC. If you are solicited by EHM or other companies for hotel assistance, please ignore them.
We recommend that attendees contact our venue hotel or the alternative hotels in the neighbourhood directly.
Guide to Madrid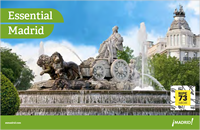 Twitter Feed